Welcome on the website of the 'association "Children of Himalaya".

Somewhere, very far away, in the high and beautiful mountains of the Indian
Himalaya, one can find the "Gaons". - - - - -
Gaons, in Hindu, means villages. These villages are full of the laughter of so many
children, however ...
Their families struggle to maintain their laughter ... In fact the agricultural structures
of these isolated villages are far from enough to feed them sufficiently.
Moreover, the lack of work adapted to the region does not help every day's life.
Furthermore, nature tends to be temperamental, creating earthquakes or huge cracks
in their habitations that are already without electricity or running water.
Traditionally, and to contribute to family life, the children are brought up to carry
out household duties, to look after the youngest children to work in the fields, and to
help their parents in different ways. Poverty is therefore often an obstacle to regular
schooling.
To favour admittance into school by allowing the children to have the adequate
material, is a great help to their families, who are often incapable to satisfy their
own needs, thus taking a considerable burden off their shoulders.
To improve the conditions of the children's lives, efficient schooling is necessary,
sufficient and balanced diet as well as medical care is sometimes necessary.
Despite omnipresent poverty, the people of the villages have a keen sense of helping
out and entertaining one another. Their children are their only wealth.
The sole wish of each parent is to allow the youngest to advance towards an easier
future.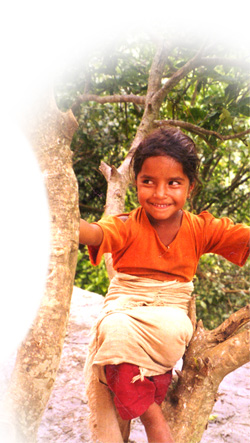 In respect of the local culture, we propose to you to intervene together, in order to
facilitate the living conditions for :
- a help with schooling
- a fight against malnutrition
- a repair of the oflen dilapidated habitats
- an accessibility with workshops supporting of the openings towards a future
professionalisation
- an accessibility with the medical care
Here are some points among those necessary, so that the laughter can survive for a long time
throughout the valleys.

Have also a look at the photos